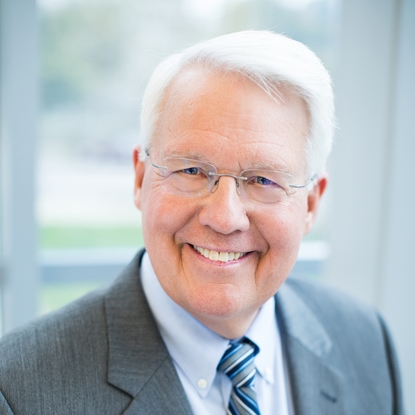 Steven D. Rowe Founder and Partner
Bio
"As the son and grandson of United Methodist preachers, I was taught to understand that people come first. This core value is essential to my relationship with my clients. Simply put, I am here to serve others."
Steve Rowe, a founding partner of Kemp, Schaeffer & Rowe, is as passionate about his career as when he passed the Ohio Bar in 1974. He remains continually motivated by a strong sense of duty and service to others.
Clients are just as committed to Steve because they know his extensive experience in several practice areas helps solve problems and meet goals in an efficient and cost-effective manner. But they also know Steve views them as more than clients — they have become extended family members. Many of Steve's clients have been supportive of the firm since it was founded in 1977.
Their continued loyalty to Steve is a powerful indication that his work has been consistent in quality. His clients are also well served every day by his outstanding secretary, Suzette Doak, who has worked as part of the Rowe team since 1985.
Three cases in particular stand out to Steve: The three he argued — and won — in the Ohio Supreme Court. But he is also proud to have achieved many significant settlements for his personal injury clients. More recently, he concluded negotiations of a seven-figure settlement with the Ohio Department of Transportation concerning the taking of real estate from the York Golf Club for State Route 23 improvements. As his practice moves towards completing five decades of service, he has narrowed his focus to helping families and businesses with their estate, estate planning, and business planning needs.
In his spare time, Steve spends as much time as possible with his wife, five children and eleven grandchildren. He and his wife coordinate and teach their Sunday School class known as the Searchers at Linworth United Methodist Church. If there is any time left in the day, he enjoys golf, fishing and maintaining a fishing blog, "Front Yard Fishing Bluegills" as a hobby.
Admitted to Practice
Ohio, 1974
United States District Court, 1975
United States Supreme Court, 1978
Work Experience
Associate, Wilcox and Schlosser, 1974-1977
Partner, Kemp, Schaeffer & Rowe Co., L.P.A., 1977-Present
Education
Associations:
Awards
Worthington Community Service Award
Civic and Volunteer Background
Member, Linworth United Methodist Church
Past chair of Administrative Council, Strategic Planning, Missions Work Area, Council on Ministries, Linworth United Methodist Church
Present member Staff Parish Relations, LUMC
Past member of the Board of Ordained Ministry, Columbus North District United Methodist Church
Lay member, Columbus North Union, 4 years
Member, Worthington Youth Boosters, acting as coach and program director for youth soccer, baseball, basketball; and secretary, vice president, president during a 15-year period of service.
Treasurer, Thomas Worthington Diamond Club
Formed Columbus Bombers Baseball Club for college-age baseball players
Member, Worthington Partners for Citizenship and Character (PCC)
Coordinator, Coaching for Character Series presented by PCC
Assistant varsity baseball coach, Thomas Worthington High School, 2001-2014
Member of the York Golf Club Board of Directors, 2006 to present
Past president of the York Golf Club Board of Directors, 2014-2015
Member of the Gusstrong Committee providing fundraising for cancer research in the memory of Coach Stephen Gussler, TWHS Cardinal baseball coach