What Happens To Your Young Child If You Die?
When a young family arrives home from the hospital, parents begin to protect their child. New parents often discuss estate planning for the first time as they ask "What would happen to my child if I die?" Answer – make sure you have selected their guardian.
Begin the process of selecting an appropriate Guardian by understanding their two major responsibilities… 1) raising your child, and 2) protecting the money you provide for your child. Your next step is to understand some basics about guardianship.
   BASICS OF GUARDIANSHIP
Guardianship ends when your child reaches age 18.
The guardian is responsible to arrange health care  for your child.
The guardian is responsible to handle money which your child inherits.
Your child will live in the home of the guardian.
The guardian is responsible to make sure your child receives an appropriate education.
Your child will be part of a brand-new family structure with its own family values.
When the Guardian moves, your child moves also.
The Guardian has a life of his or her own. Divorce, disability, or death of the Guardian requires you to have considered and nominated an appropriate backup.
The Guardian has a home. Is it of sufficient size to provide appropriate living space for your child.
Under Ohio law, there are two types of guardians. A Guardian of the person is responsible for raising the child and a Guardian of the estate is responsible for handling money on behalf of the child. Typically, one person serves as both, however, the law permits separate guardians to be appointed to manage these quite different functions.
Once you have given thought to the basics, here are ten important considerations for you to discuss as you make your decision.
   QUESTIONS TO CONSIDER WHEN SELECTING A GUARDIAN
Do the individuals you are considering enjoy children who are the age of yours?
Do the individuals you are considering know your child, and if so, how do they relate to one another?
Do the individuals you are considering share your basic family values, for example, discipline, responsibility, education, religion and the other dimensions of your family life which you believe are essential to raising helping a young child become an independent and responsible adult?
Are the individuals you are considering trustworthy?
In what school district does the person live?
Does the individual you are considering have a stable home for your child?
Does the individual you are considering have a stable spouse or significant other whose character will no doubt affect your child?
Does the individual you are considering have sufficient physical energy and emotional strength to take on the responsibility of raising your child?
How does the individual you are considering handle money?
Is the individual you are considering willing to be nominated?
                    TAKING CONTROL OF THE PROTECTION PLAN DECISION-MAKING
As the father of five adult children and grandfather of five, I urge my children to control the decision-making about who would raise my grandchildren if tragedy occurs.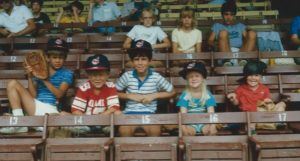 My Kids At A Tribe Game
As an estate planning lawyer, I devote my very best efforts in helping young families take control of this important decision. I will help you embrace the opportunity of answering the critical question of who would take care of their child if something happens to you.
Allow me to help you develop a guardianship protection plan for your family.  Together we will make sure the documents necessary to implement the protection plan are in place. Contact my secretary, Suzette, at (614) 665-5833 for an appointment. If you would prefer a Skype or telephone conference, we are happy to make those arrangements.
The post Choosing A Guardian For Your Children appeared first on KSR.